offer
Floristry for every occasion
We do all! Complete decor packeges for indoor and outdoor events. Arrangements can be as lavish or humble as you wish, and we work side-by-side with the customers to ensure every detail is perfect. We do all the work, you just enjoy.
The pictures tell the entire story of these natural and seasonal enhancement to the place on the special day.
art
The art of floristry
Unique creations – unusual materials forms techniques
workshop
Sensitivity – knowledge – personal development

I am happy to share the skills and knowledge that I have acquired through the years. Therefore I organize workshops on various topics. Courses are available for beginners and advanced lerners, groups or individuals. For for the shop owners I provide employee training, and floral design workshops.
Z przyjemnością polecamy Panią Monikę oraz jej aranżacje kwiatowe i artystyczne. Pani Monika w każdym calu zadbała o oprawę naszego wesela. Przygotowane przez nią dekoracje nie tylko trafiły idealnie w nasz gust i pomysły, ale również skradły serca wszystkich gości oraz doskonale komponowały się z wystrojem sali. Pani Monika zadbała o dosłownie każdy szczegół – każdy element dekoracji był starannie przemyślany i perfekcyjnie wykonany. W kilku słowach – pełen profesjonalizm, fachowa porada i doskonałe wykonanie. A do tego świetna współpraca z szalenie miłą osobą – polecamy serdecznie!
KASIA i KRZYSIEK

Kiedy niedawno brałam ślub, od razu pomyślałam, że dekoracje kwiatowe i mój bukiet przygotowane przez Panią Monikę, będą zachwycające. I były! Odpowiednio dobrane rośliny, naczynia i świece pięknie wkomponowały się we wnętrze i stały się niepowtarzalną ozdobą! Uzgodnienia kolorów i ceny odbyły się w miłej atmosferze. Wszystko dostarczone na czas, bezstresowo. Rośliny trzymały się prawie 3 tygodnie po uroczystości, a ususzone części ozdabiają dom do teraz. Mogę śmiało zarekomendować Panią Monikę i jej talent.
KATARZYNA KASPRZYK-GALON

Dziękujemy za przepiękną dekorację kwiatową, która idealnie pasowała do wystroju karczmy i pory roku. Zimowe kompozycje zachwyciły wszystkich a bukiet ślubny przetrwał największy mróz tego roku!
ADA i PAWEŁ
about me
I am a lucky woman – I do what I love
My name is Monika. I do not like boredom or to work in gloves. I love the shapes and lines of plants, creative activity, efficient organization of work, flexibility, overcoming limitations, smile.
Clear goals and a desire to progress resulted in such events:
2005 diploma as a Florist, Floristry School of Malgorzata Niska, Warsaw
2007 diploma of Master Florist, Academy of Mariola Miklaszewska, Sekocin Nowy
2009 the title of the International Judge in Floral Art, FLORINT, Amsterdam
2009-2015 co-owing the flower company City Flowers, Krakow
2012 2nd Vice-Champion of Poland in Floristry, Poznan
2013-present   instructor at the Postgraduate Studies – Floristry at the University of Agriculture in Krakow
All those adventures made me sure of what I do and I am not afraid of any challenges.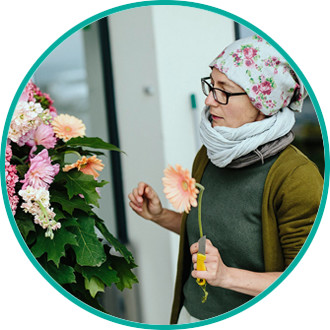 flora&art monika kudłacz
ul. sarego 28/29, 31-047 kraków
tel. 602 834 176
mail kontakt@monikakudlacz.pl
nip 6411705685
nr konta PL 90 1050 1445 1000 0092 2949 1874